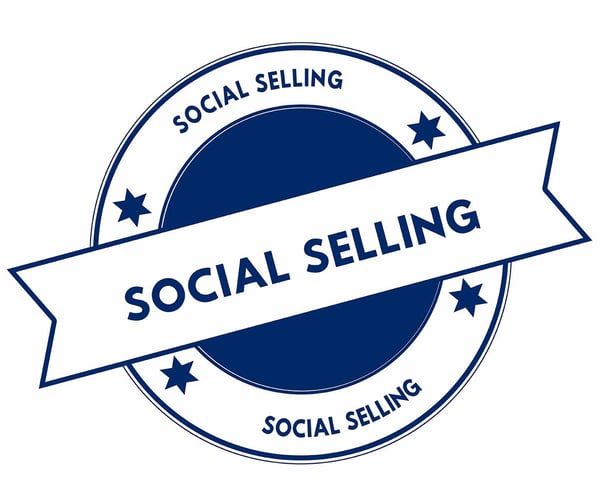 By now, you've probably heard about social selling in some fashion. But you, like a lot of B2B and B2C business owners and sales professionals, may not be all too sure what it exactly means. And no: social selling is not the same as social media marketing, nor is it just another industry buzzword. Let us show you just why it's not, all while proving that the value of social selling is vital to increasing your company sales numbers.
What is Social Selling, Anyways?
Think of social selling as a type of inbound marketing that can help bolster sales across all niches. At its core, the value of social selling is based on interacting with past, present, and future customers and clients through social media, answering questions about products/services and providing (and posting) useful information.
Social selling is built on the principle that you can leverage your social networks to find and discover the right buyers, build trusted relationships with them, and when it's all said and done, close in on your sales goals. Like other forms of inbound marketing, this sales strategy betters sales lead generation and helps grow your customer base, eliminating the need for time-consuming cold calling as a result.
It's a win-win selling technique—and one you should be taking full advantage of.
How Does Social Selling Affect Buyers?
In fact, sales professionals who have utilized the upsides of social selling, outsell and outperform those still using pre-social-media tactics. Buyers now, more than ever, are using their social networks to research and compare products and/or services they're contemplating purchasing or subscribing to. A report by Social Buying Study showed that 75 percent of B2B buyers use social media to support purchase decisions. The same study also showed that one of the reasons buyers chose not to buy a certain product was due to "lack of social media engagement from the company."


Buyers these days are searching, reading and asking peers for recommendations, often linking back to social media advertisements and business pages as reference points. And if your sales team isn't engaging with their social traffic, then they're losing out on countless sales opportunities.
How Can Social Selling Increase Sales?
It's pretty simple: Social selling, when done correctly, can increase sales across all product and service categories.
Social Selling Index (SSI), a LinkedIn-created product to help brands utilize social selling, has been conducting internal studies on the benefits of this selling strategy for years now. In their most recent internal study, they found a strong correlation between achieving sales goals and social selling activity. Below are just a few of the most eye-opening statistics garnered by SSI:
45 percent reported more sales opportunities through social selling

51 percent more likely to hit quota through social selling

78 percent of social sellers outsell peers who don't use social media

Three-times the number of people were likely to buy a subscription-based service
To further drive-in the point that social selling is important, the research and analyst firm CEB found that about most customers, on average, are nearly 60 percent of the way through the purchase process before they ever engage with a sales professional; this means the customer has already cross-researched, looked at payment options, checked social reviews, and more before even getting in contact with a sales rep.
Another analyst company, IDC, found that 75 percent of B2B buyers and 84 percent of executives use contacts and information from social networks when purchasing services and products—so social selling is effective, no matter the customer's workplace role or position.
How do I Start Social Selling?
Here's the good news: According to LinkedIn, about three-quarters of buyers are ready to have a social media conversation with potential providers.
In a nutshell, this means that your social selling tactics won't go to waste. In fact, more than 60 percent of B2B buyers report having responded to salespeople that connect with them, regardless of whether or not conversation was about company insights or purchasing opportunities.
And to put the cherry on top of the proverbial sundae, 92 percent of those same buyers say that engaging with the social selling process increased their opinion on the brand, which can better brand reputation and recognition.
Here are a few insights as to how you can start implementing social selling strategies—today:
Post insightful, useful information that platform-specific, like posting an infographic to Instagram or long text post on Facebook, to help establish brand prestige

Respond to DM (Direct Messages) as soon as possible; Facebook, actually, will post response rates on business pages

Use Twitter as a focus group of sorts, actively asking for opinions on product design, quality, etc.

Creative "social incentives," i.e. special deals and promo codes that only exist on social platforms

Use story and video platforms that are appropriate for your business, like those on Snapchat, Facebook and Instagram, to bolster brand connection through things like factory tours, live Q&As, etc.
Implementing these social selling strategies will help bring in sales from customers, new and old. But, at the end of the day, remember that social selling is, above all else, based on your company's connection with your customers.
Some Final Thoughts on Social Selling
The world is increasingly changing, and the ways we're buying, selling, and communicating as a society are as well. With the advent of social media, it's become imperative to use these platforms to catalyze company sales and deepening connections with customers along the way. Social selling is part of the multi-faceted future of B2B and B2C sales, so why not get ahead of the curve?
Want to learn more about how you can increase your social selling potential? Let's Talk!