Ballyhoo Marketing Advantage (Ballyhoo) recently added a new addition to its team with Brianna Allenstein, a senior at Ohio State University studying Journalism. Bri has joined as an intern and was first attracted to the company after seeing how it seeks to work directly with small businesses to implement Inbound Marketing to further their growth and propel them to the next level in the digital age.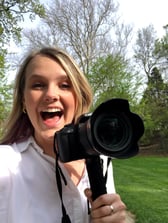 When the opportunity arose to work at Ballyhoo, Brianna was unsure if she qualified because she did not have a background in Marketing. However, her eagerness to learn more about how different companies operate and interact with marketing will help her advance in her new role, expanding not only her personal growth but also professional growth. At Ballyhoo, Brianna is able to work closely with CEO Anne Blaha, who has crafted a culture among her employees and clients emphasizing approachability that encourages learning and seeks to take a company to the next level without losing its core values and mission.
After studying journalism for the past three years, Brianna sees the importance of providing relevant information and news for the public. Operating under a strong code of ethics, she is able to research verified original content to give honest work that shapes opinions and free thought. She is committed to working against deadlines and thinking out of the box. Brianna is eager to learn more about Inbound Marketing and use her skills to help Ballyhoo's clients win customers and advance their cause.
She is excited to improve her skills by learning more about Content Marketing, SEO, and CRM systems, writing blog posts, creating social media content, and assisting with reputation management. Brianna will get exposure to marketing through various projects and communicating with customers about products for small businesses.
Previously, Brianna worked for Ohio State's school newspaper called The Lantern where she reported on the women's volleyball team and other various sports at Ohio State. She worked on a team of fellow students creating content weekly in the form of video or through written articles. The communication skills she has acquired will be used to her advantage when contributing to the team at Ballyhoo.
In her spare time, Brianna enjoys hiking and being outdoors with her dogs, creating videos, editing photographs, and traveling to new places. Along with coaching lacrosse at Olentangy Liberty High School in the spring.
Brianna has hit the ground running by learning more about marketing through HubSpot and is excited to grow more as the year progresses.
"We are thrilled to have such a bright young student join our team as an intern," said Anne Blaha, CEO, and Founder of Ballyhoo Inbound. "We are excited to nurture her skills and watch her grow as she approaches her last year of college."
About Ballyhoo Marketing Advantage
Ballyhoo Marketing Advantage was founded by Anne Blaha in 2015. Ballyhoo partners with small to medium-sized companies that are serious about growth and need to create or improve their marketing and sales strategy. We help our clients win more customers by building a lead generation engine as their website, intensive SEO, Email Marketing, Content Marketing, Blogging, CRM Implementation that is tied directly to your website, Google Ads, email, social media, and more! Ballyhoo also manages paid search and paid social campaigns and can help you track the full lifecycle of your leads.