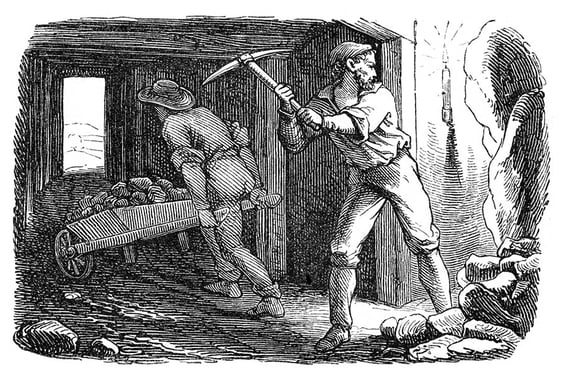 While there are multiple ways a B2B or B2C business might reach out to new prospects for the first time, we must consider how important the "first touch" is. "After all, first interactions with prospects are key -- you're aiming to establish trust, provide value, gather key information, and perhaps even secure a follow-up meeting.
If you don't use the right medium, they'll be less receptive to your message (and that's assuming they engage at all)," according to a recent Hubspot blog.
Graham Hawkins said, "In order to find a gold nugget, the old timers would take a pick, shovel and gold panning dish, dig up soil, gravel and/or sand from creek bed and wash it in a panning dish, swirl water so gold specks or nuggets sink to the bottom and they would then tip the soil, gravel and sand off until only gold is left. If you think about it this is effectively what sales people are doing with traditional forms of prospecting such as cold calling. That is, sifting through mountains of dirt in order to find a small piece of gold."
My husband is a huge fan of the television series "Gold Rush" so I know (inadvertently of course) that prospecting for gold has been modernized and the same is true for customer prospecting. You wouldn't want to use a pick and shovel to dig up your customers either, as that could injure them in process. A negative first touch could cause potential good leads to fall through the cracks or worse yet send them running into the arms of a competitor. So what is the best way to reach out to a prospect the first time? Should you buy a list of contacts and send out an email blast? Should you have your team cold call? Should you send them marketing collateral via snail mail? Should you be attending trade shows? Should you be gathering intelligence from website visits and capturing information directly and voluntarily from the prospect?
The short answer is yes. You may need to use all of these strategies to get your brand/product in front of a customer the first time. The key here is to find the right first touch experience for your buyer's journey. And remember not all buyers are the same, which is why it is essential to have your buyer persona's mapped out. (More on that in a future blog post.) For example, sending someone unwanted email could cause them to unsubscribe and give them a negative first impression. This is where buying a list of contacts to email is risky, as you have no context of the prospect or their situation. Studies show that cold emailing has a lead conversion rate of less than 1%, which means you have a 99% chance of not getting your message through to the right person at the time, and causing a negative first touch. So while buying lists of contacts to email or "so-called leads" might be tempting, be careful as to how you first attempt to engage them. Make sure your email is relevant and provides something helpful to the prospect.
Calling as a first touch might be better than a cold email in most cases, but only if your salesperson has done some company and target contact research so that they are prepared to have a meaningful conversation with the prospect. The agent should be ready to listen and ask questions instead of launching right into a script. If a caller can manage to get past the gatekeepers and voicemails, they definitely don't want to make a negative first impression and lose any potential opportunity. The caveat to all this is that according to the Harvard Business Review, sales reps spend 25% of their time researching prospects while at the same time 90% of C-level prospects won't respond to cold outreach. So cold calling is only ONE strategy to employ when trying to get the right message to the right person at the right time.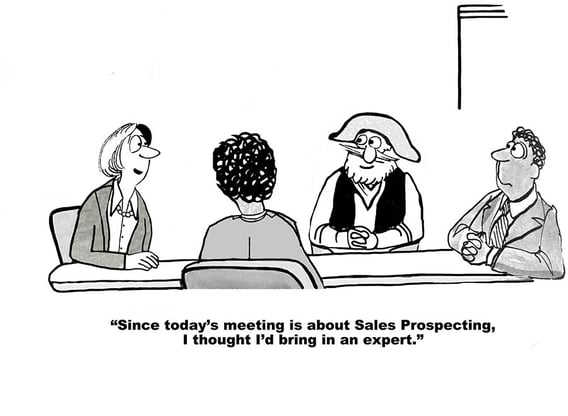 Cold emailing and cold calling could be referred to as the pick and shovel. While they are still pieces of an overall prospecting strategy, an OMNIBound approach (all marketing channels, both inbound and outbound) will help you cover all of your bases without offending your opportunity base and send them running to a competitor. So, why are organizations still using the old pick and shovel methods? Maybe they aren't aware of the new growth stack today's sales people now have at their disposal that can make the task of 'prospecting' so much more efficient at a very low cost per lead. Leveraging marketing technology provides a less disruptive way to intercept signals from prospects allowing you to find and nurture them at the right time in the buyer's journey. Modern tools in the growth stack include CRM's or customer relationship management tools, marketing automation, predictive analytics, content marketing like blogging, ebooks, and whitepapers, social engagement, SEO, retargeting and more at an affordable cost per lead.
Whether a prospect's first encounter with your brand is through a digital space like search or social media, at a trade show, through a referral, or, perish the thought, via a pick and shovel method, it is crucial meet your customer where they are on the customer journey and handle that first touch with care. Click here to read about how a CRM or Customer Relationship management system can help you keep track of prospects and customers.
So how do you get your brand in touch with prospects? Think social...look for a future post about social selling.
What's next? The rise of messaging in B2B and B2C.